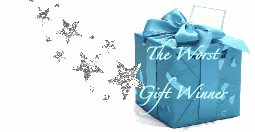 This was a hard choice, the best of the worst gifts & winner of a Starbucks Gift Card is....
A cushioned toilet seat! From your own parents, the same year they give your sister a car! That is just WRONG!!
Jessica, please email me with your address so that I can send you your prize.
The two runners up are Abi & Christa.

So if the winner doesn't respond, then the prize will go to one of you.
Christa
said...
Honorable mentions go to Me & Julia, who said...
I am kind of happy that I wasn't the only one out there with bad gifts. HeHe. But some of you had some doozies. I swear I almost peed my pants reading the responses! And if I had the resources you would all get a prize, but sadly that is no the case. *sniff* But I thank you all for you entries, they really did put a little laughter in my otherwise, just curled up in bed being sick, day.